10 Easy Piano Songs for Beginners
You don't need tons of practice to play piano songs that you love. Here's our selection of easy-to-play pieces for beginners, plus a few key tips to set you up for success.
Last updated on 15 Feb. 2023
If you're a beginner piano player or getting back into learning after a long break, you might have run into a problem: you want to find easy piano songs that are quick and fun to learn—without losing all the beauty and emotion that draws you to them. This article is our answer to that dilemma: it includes 10 piano songs from various genres that are easy to play while still sounding impressive. 
You'll also find our basic tips for learning piano songs, including how to choose the best pieces to start with, how to play with both hands, and how to use speed and repetition to perfect your playing.
Looking for the best way to learn the songs you love? flowkey has thousands of beautiful arrangements for players of all levels. Sign up for free and start playing today.
10 easy piano songs that you can start playing right away
Tips for Success
These tips will get you playing new songs quickly and with ease. We've built our app to support this learning method. You can try it out for free here. 
Learn each hand separately—first your right, then your left, and then put both hands together once you're confident.
Start slow. Mastering a song at a slower speed will get you to a great-sounding full speed faster. 
Repeat small sections. Play a small section of a song over and over again. Once you've mastered it, move on to the next section, then put the two sections together. Continue to build the song in this way.
Find a song that lights you up. It's easier to stay motivated when you play the music you love. Browse flowkey's library and choose from thousands of songs for all experience levels.
1. Tetris
The showstopping retro video game classic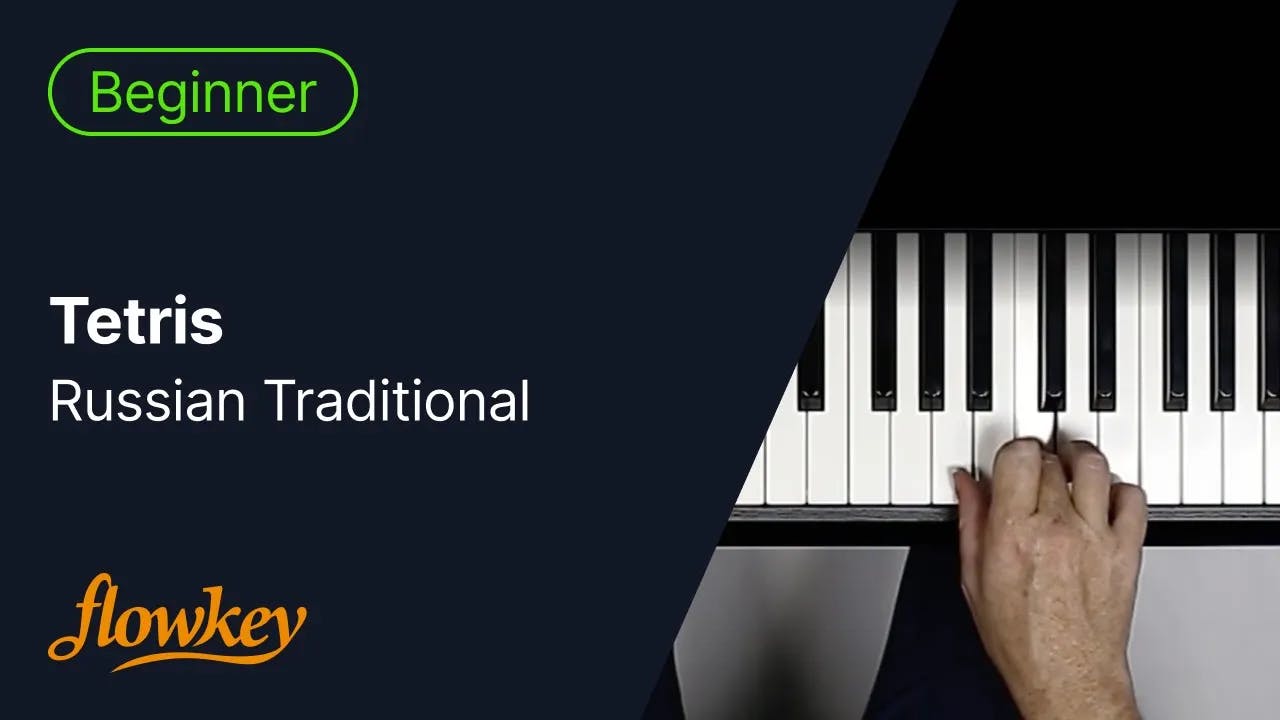 This theme to the classic 1989 video game Tetris has its roots in the nineteenth-century Russian folk song "Korobeiniki." The folk song is already quite playful, mimicking a flirtation between a peddler and a peasant woman, but the Tetris adaptation adds an urgency that mirrors its frantic gameplay. flowkey's beginner-level arrangement maintains the song's signature intensity while breaking it down into a short, simple, and joyful learning experience. The right hand plays a steady melody while the left hand plays one note at a time in accompaniment.
2. Holy
Justin Bieber's uplifting pop song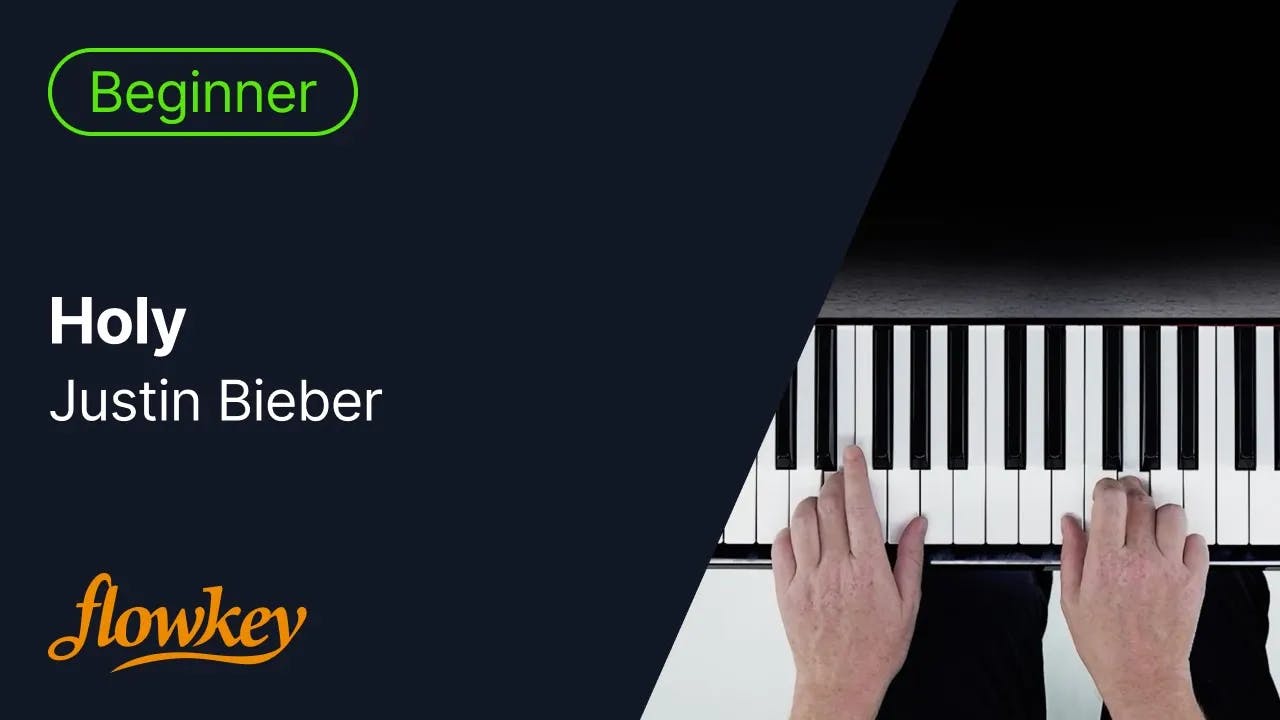 This piece is absolutely beautiful on the piano. The melody will take you up and down from middle C, so you'll have to get comfortable with your hands moving around the keys a little. The right-hand notes follow a gentle, simple rhythm, and there are just a few left-hand notes to play at the same time. Give yourself time to perfect the different patterns—you can use flowkey's Wait Mode and Loop feature to help you with this—and you'll have a fantastic addition to your repertoire.
3. Clair de Lune
A dreamy, hauntingly beautiful piece by Debussy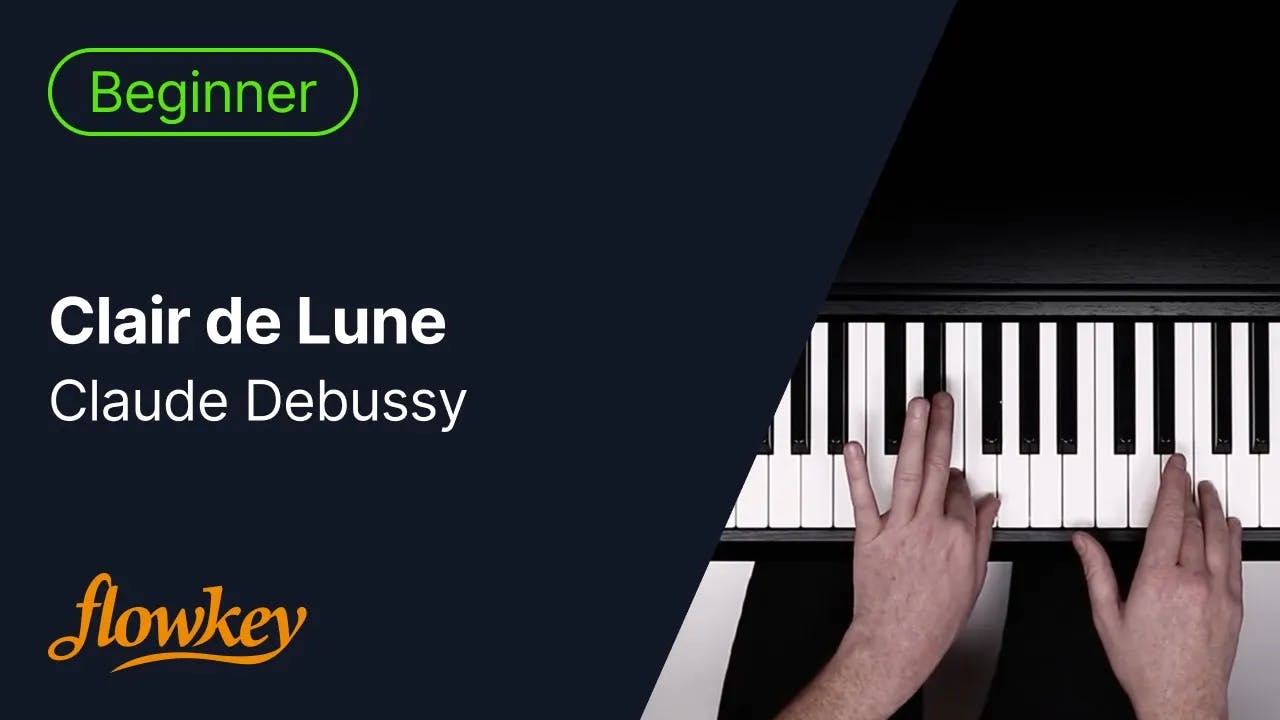 "Clair de Lune" ("Moonlight") is one of the famous composer Debussy's best-loved piano pieces, and it's easy to understand why once you hear its hauntingly beautiful melody. While the song gets more complicated from the middle section onward, its famous introduction is much easier. At the start, your right hand plays a slow melody while your left plays some simple, broken piano chords. Even just perfecting the opening of this gorgeous piece may be enough to give yourself—and any listeners—goose bumps. Learn the song for free with flowkey.
4. Bring Me to Life
Evanescence's epic love song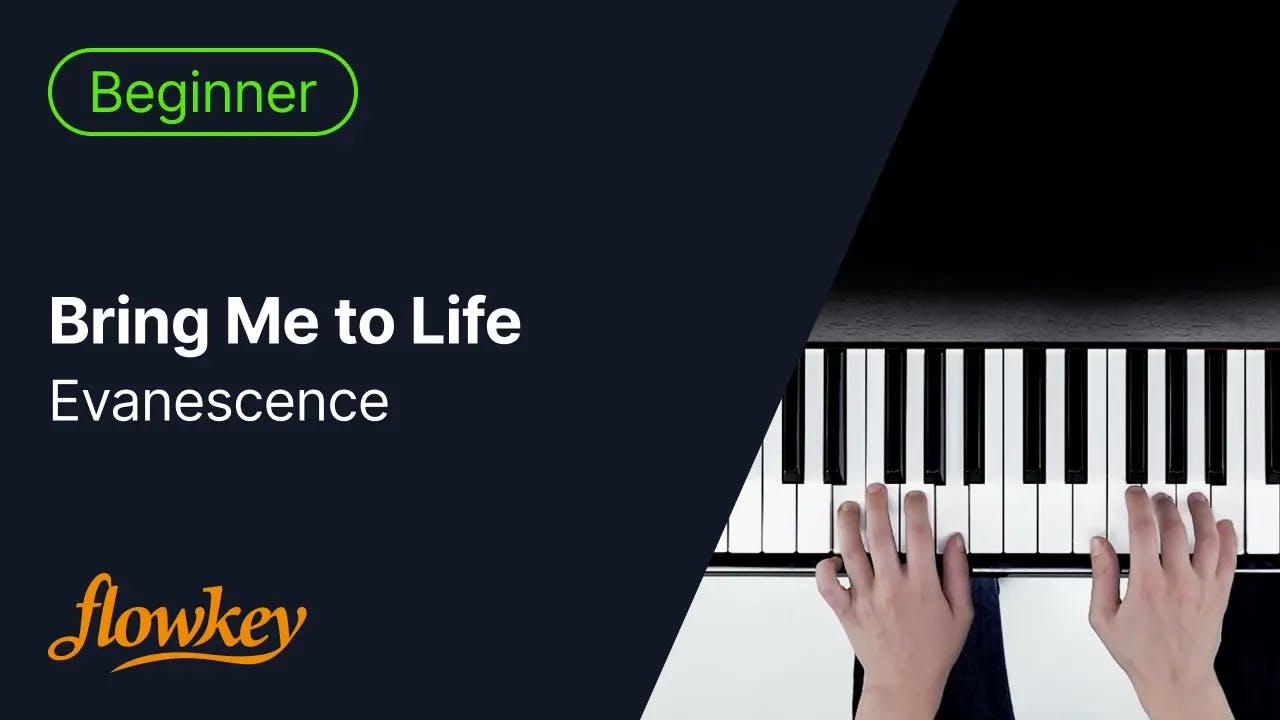 Evanescence's smash hit "Bring Me to Life" is a great piece for channeling your inner rock star on the keys. This song is longer than most on our list, starting with some trickier right-hand melodies and ending on a repeating left-hand pattern. It will take some practice to get both hands playing together fluidly, but once you get the hang of it, you'll appreciate the challenge.
5. Amazing Grace
The timeless, hopeful hymn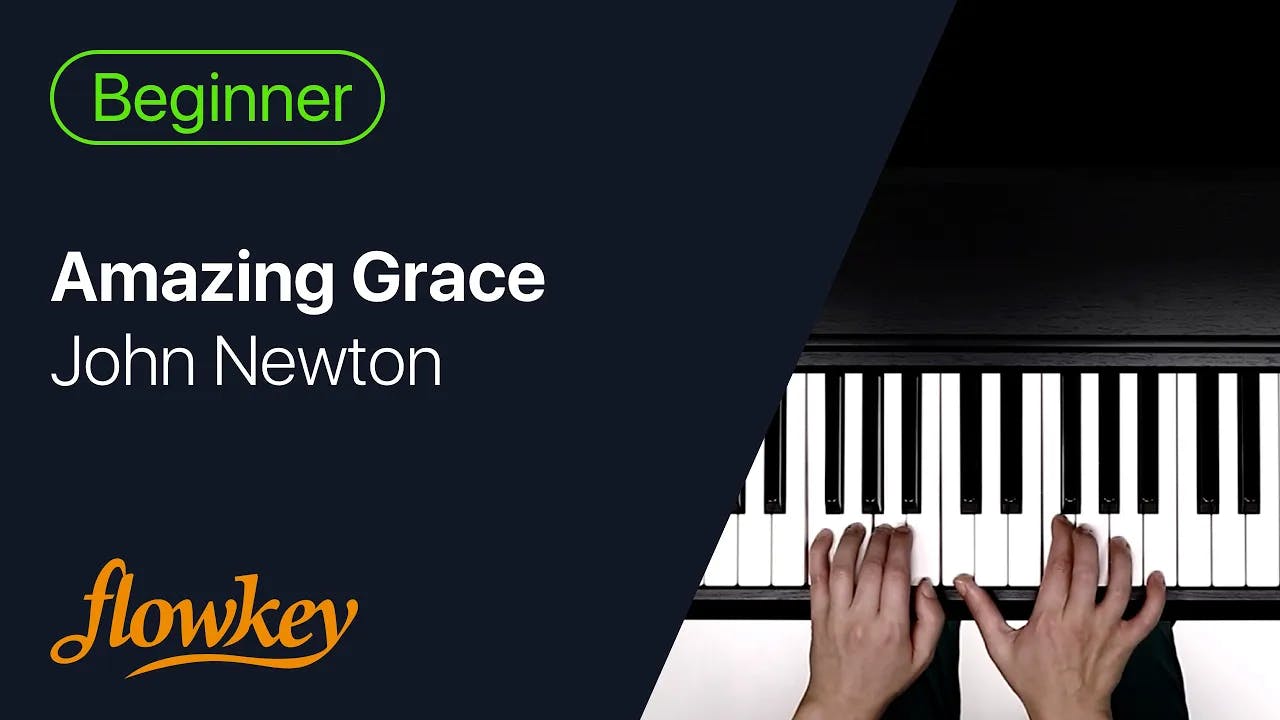 This famous, soaring hymn is easy for piano beginners to master. Our beginner-level arrangement—which is free to learn on the flowkey app—has the song's right-hand melody gently floating over soft, broken chords in the left hand. "Amazing Grace" is short, simple, and sweet, which provides an excellent opportunity for improvisation. Play the song slower, faster, with and without a pedal, to discover its many moods and create your own version of the classic. Learn "Amazing Grace" for free with flowkey.
6. Where Did You Sleep Last Night
The chilling folk song made famous by Nirvana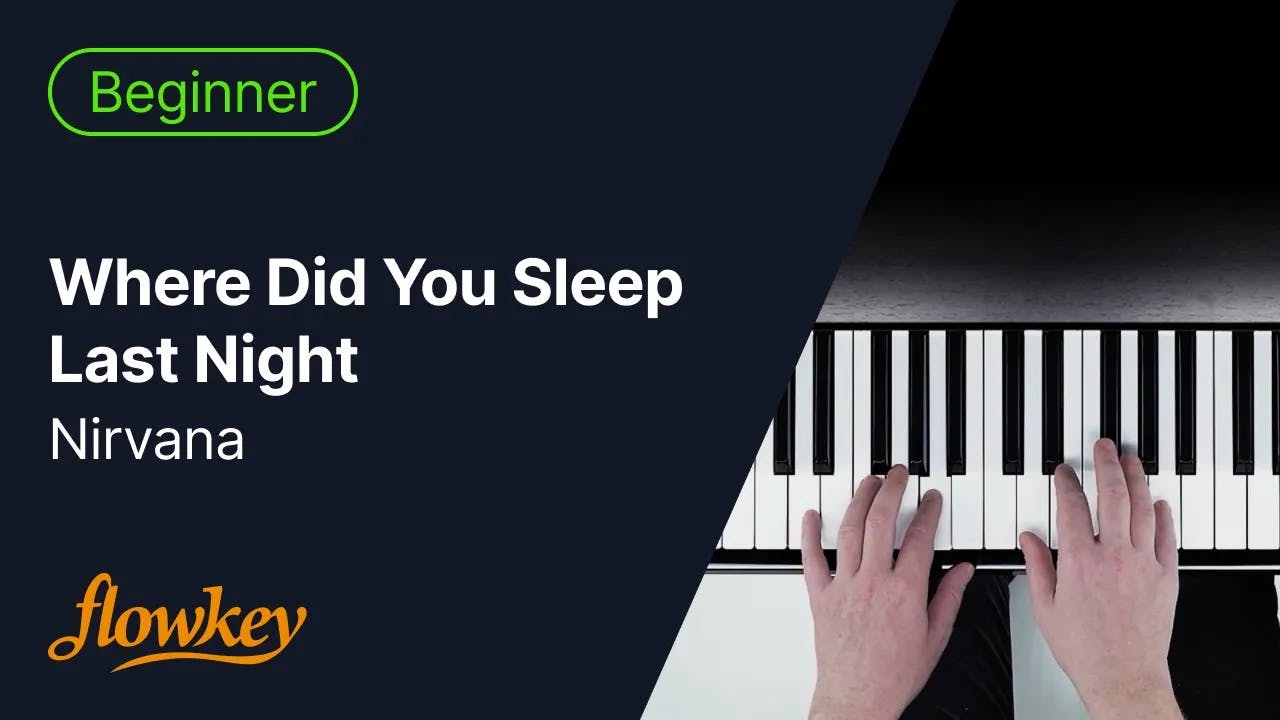 Nirvana made an instantly famous cover of this song in 1993, inspired by Lead Belly's 1944 recording, but did you know that the original version dates all the way back to the 1800s? Besides having a fascinating history, "Where Did You Sleep Last Night" makes for a great easy piano song. The right-hand melody moves along nice and slow, with just a scattering of accompanying notes in the left hand. Its simplicity allows you to really dive into the emotion of the piece, whether that be through singing along, playing loud and hard, or whatever else you feel compelled to do.  
7. Gymnopédie No. 1
Erik Satie's contemplative piano solo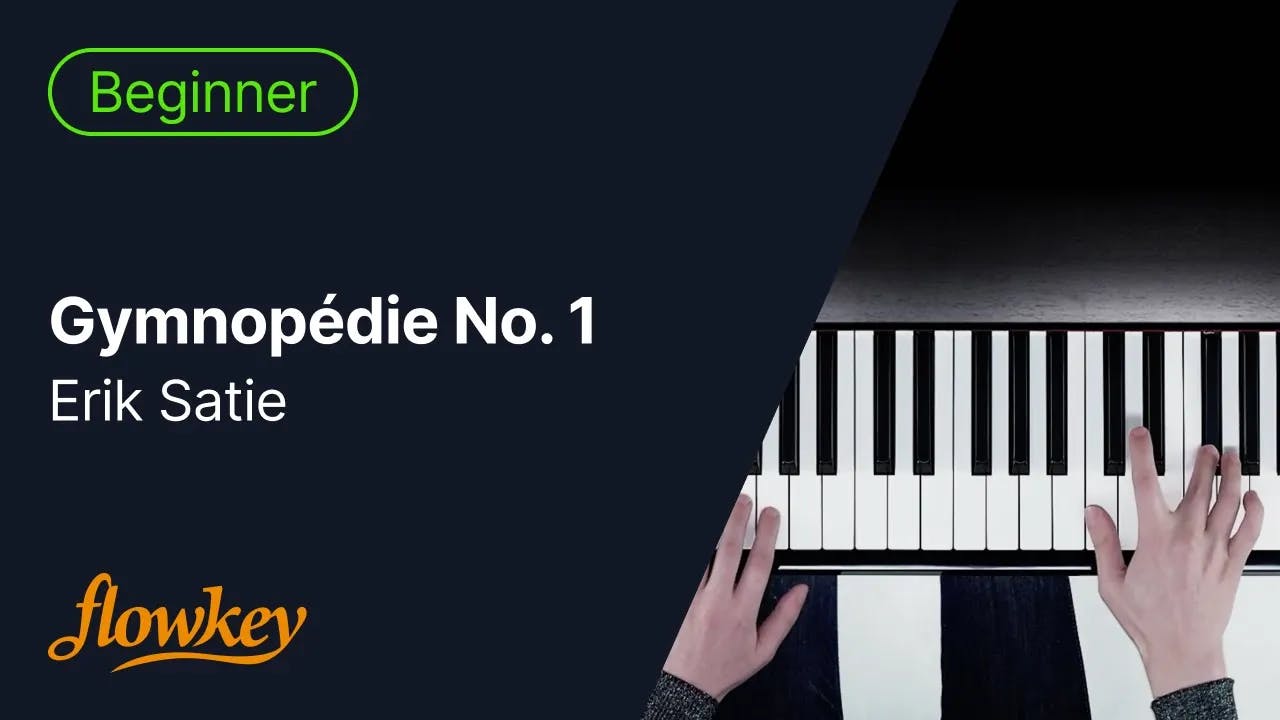 This piece's name is probably the most difficult thing about it! Satie composed it as part of a three-song series titled "Gymnopédies"; these are among some of the best piano songs for beginners to learn because they're slow and simple. There's a great emotional depth to "Gymnopédie No. 1"—a wonderfully contemplative, melancholic vibe—which is no wonder given the composer's notes that the piece should be played slowly and sorrowfully ("Lent et douloureux"). For such a simple song, it carries a lot of complex emotion, which makes it incredibly rewarding to learn—and memorable to play.
8. Joe Turner Blues
W.C. Handy's deceptively lighthearted blues classic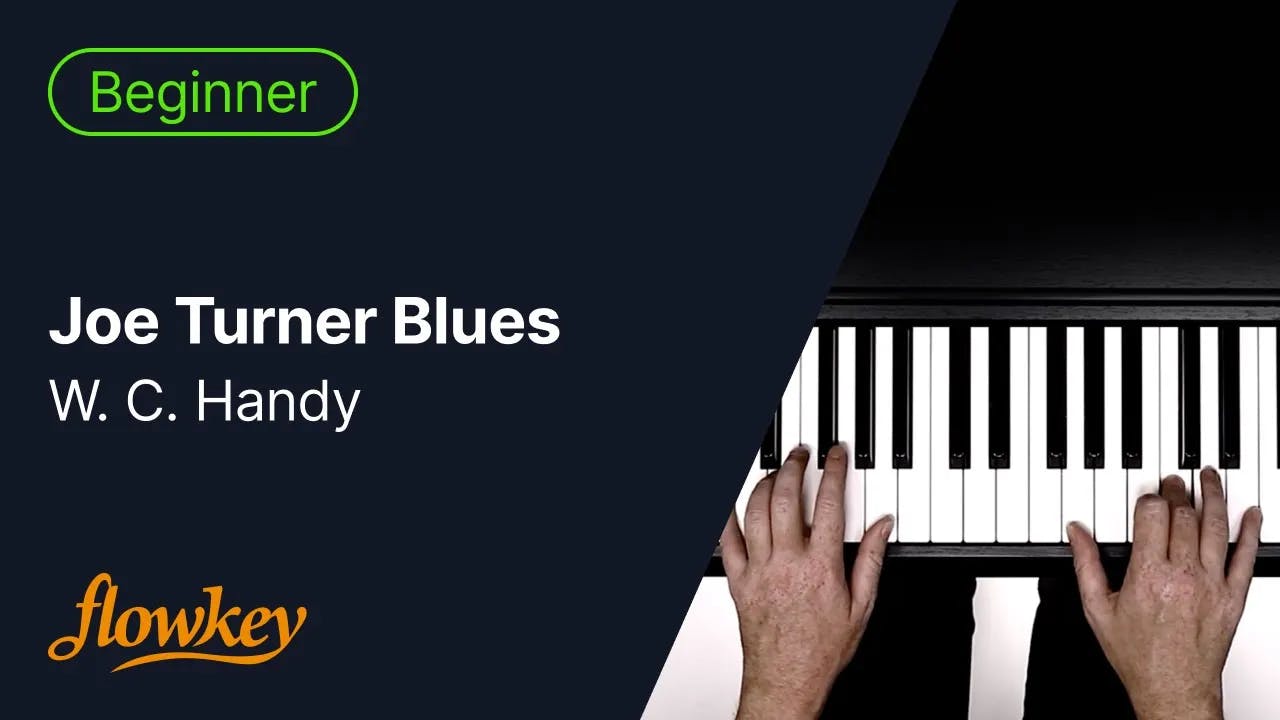 This signature song by W.C. Handy from the early 1900s exposes the kidnapping and enslavement of Black men in America. The lyrics come from their wives' point of view: "Joe Turner" stands for the man who took their husbands. The song's heartbreaking beginnings bounce against its relatively lighthearted melody—simple and swinging in the right hand, with a few broken chords in the left. The complexity of emotions in this song cannot be understated. For this reason, it's a fantastic entry point into the emotional possibilities of piano, all while being an easy piece for beginners.
9. Take Me Home, Country Roads
John Denver's nostalgic hit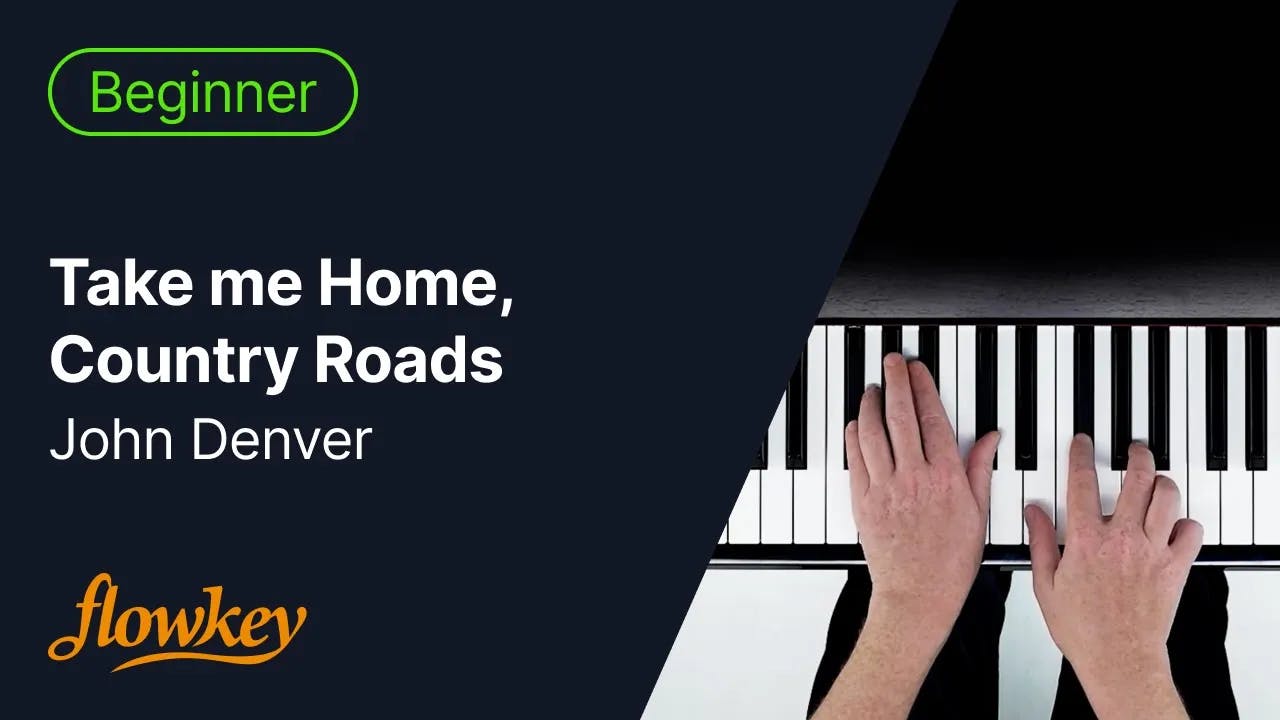 This classic country song is so famous that it became one of West Virginia's official state anthems—and has since been covered by other artists at least 150 times, in multiple languages. Something about this song, with its sweet, simple, slightly sad melody, speaks to that specific longing for home so many of us have. flowkey's beginner-level arrangement strips "Country Roads" back to its basics without losing any of its signature charm. If you're looking for a song to get people talking—or singing—this is an excellent choice.
10. Moonlight Sonata
Beethoven's brooding masterpiece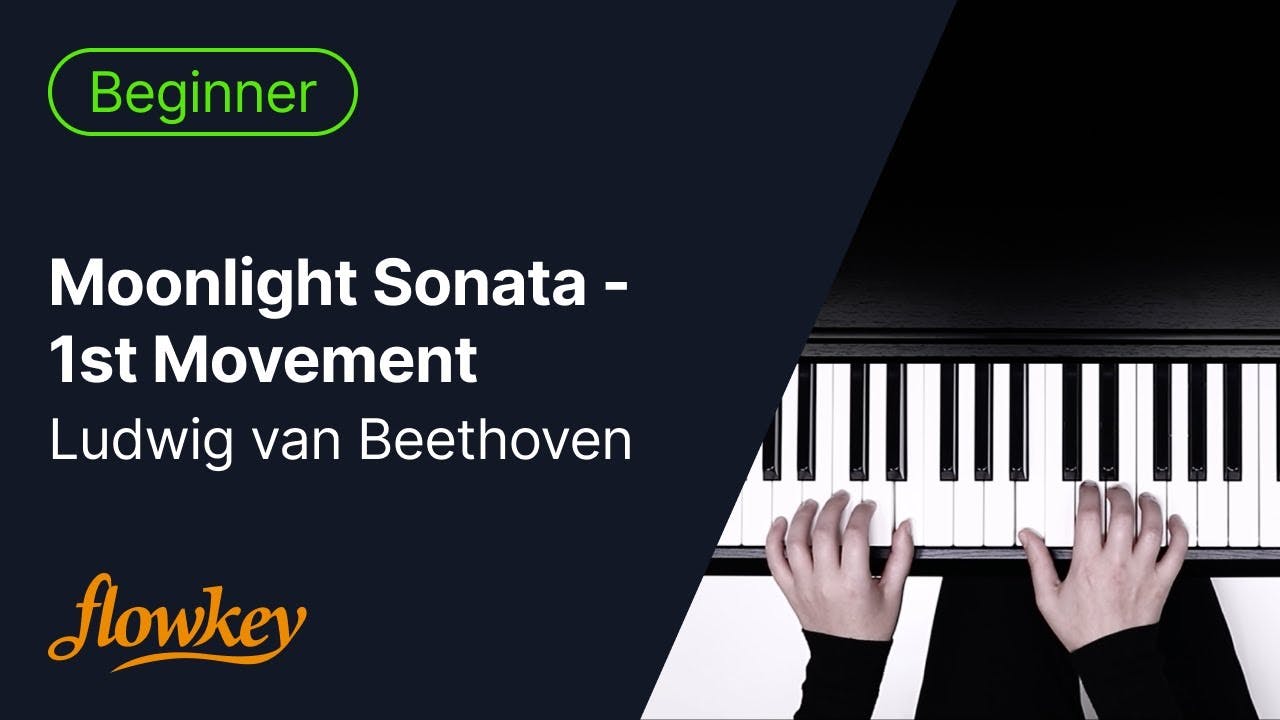 Beethoven's "Moonlight Sonata" is one of the composer's best-known pieces and has been featured in countless films. It's a powerful, emotionally moving song, with a first movement that's surprisingly accessible for beginners. The melody follows a gentle, repetitive pattern, and there are just a few sharps that you need to keep an eye on—we've made these easy to spot in our beginner tutorial. Because the song sounds harder than it is, it's a good one to play when you're looking to boost your confidence or impress others.
Play the music you love with flowkey
Choosing easy piano songs that match your playing level will help you achieve your goals—and make your piano-learning journey much more enjoyable. After all, when you're playing music you love, it's easier to stay motivated.
Do any of these easy piano songs have your fingers itching to hit the keys? Get the full tutorials and view our entire library at flowkey, available on desktop and mobile.