The Best Piano Songs to Learn This Christmas
We've handpicked ten of our favorite Christmas songs for piano. There's something for every level of pianist, with all you need to start playing today.
Last updated on 4 October 2023
Music makes Christmas truly special. It helps us create that extra warm, classic holiday feeling we only get for a few days each year—and can make even the grumpiest Grinch's heart grow a few sizes.
With the nights growing cold and long, it's the perfect time to learn some songs to make your Christmas bright. With that in mind, we've handpicked ten of the most popular Christmas pieces from our special collection of holiday classics. Each piece is available to learn on flowkey.
1. Jingle Bells
Originally written for Thanksgiving, this is one of the most recognized Christmas songs on the planet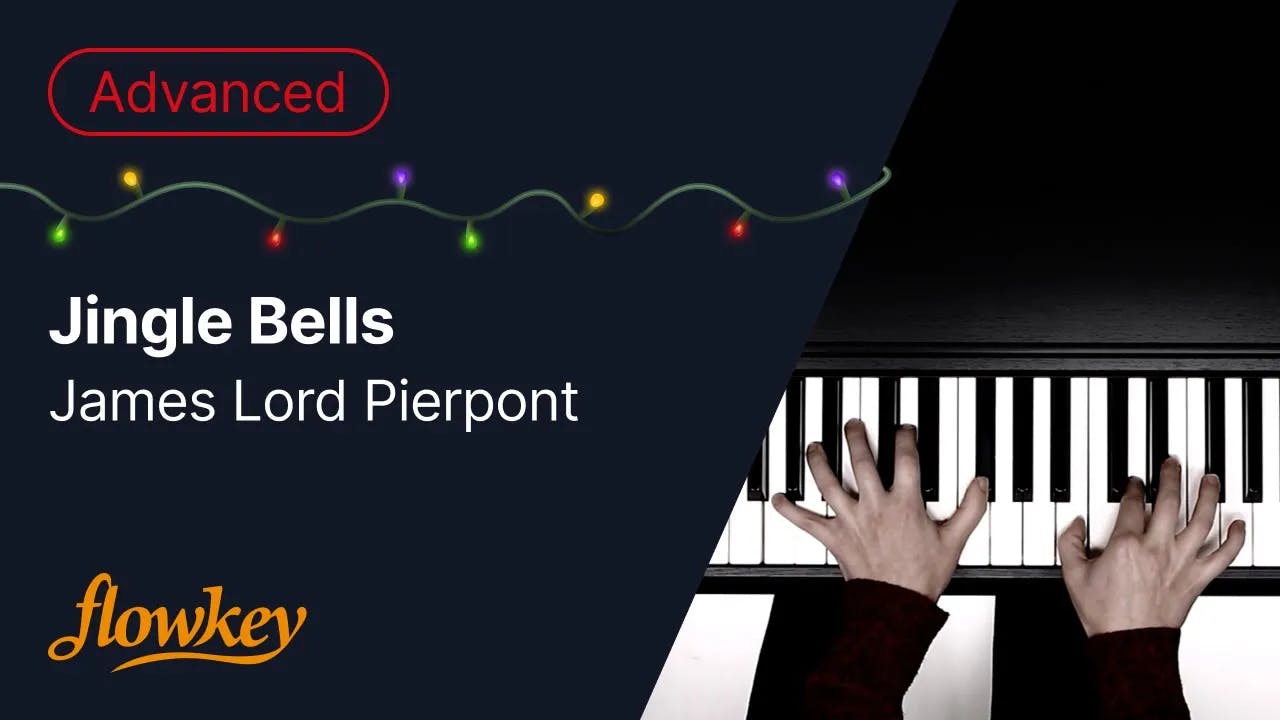 Although this has been a Christmas staple for more than 150 years, legend has it that the composer, James Lord Pierpont, actually wrote "Jingle Bells" for a different occasion altogether: Thanksgiving. 
That didn't stop "Jingle Bells" from becoming the most recognizable Christmas song of all time. In 1965, it became the first song performed in space when astronauts Wally Schirra and Tom Stafford gave Mission Control a surprise rendition with the harmonica and bells they'd snuck on board.
Play this on piano when you need a surefire way to get even the Grinchiest listener in the holiday spirit.
2. Rockin' Around the Christmas Tree
Play this to get everyone dancing
It's been more than sixty years since thirteen-year-old Brenda Lee first sang the lyrics to "Rockin' Around the Christmas Tree," but this jubilant holiday song is as beloved as ever. Legend has it that Lee only needed one take in the studio to record her most famous vocal rendition, back in 1958. Just over three decades later, its placement in the iconic nineties film Home Alone cemented the song's reputation as a Christmas classic.
There are few songs better suited to a Christmas gathering, so consider this as a must for any holiday playlist. And in case you were wondering, singer Brenda Lee informed a radio host in 2014 about the correct direction to rock around the Christmas tree: south.
3. Feliz Navidad
This piece is packed with feeling, from melancholic solitude to pure Christmas cheer
Most of the lyrics to this 1970 song by the singer-songwriter José Feliciano are in Spanish, but that hasn't stopped it from becoming a hit in English-speaking countries as far away as Australia and New Zealand. A homesick Feliciano wrote the song while living in Los Angeles, reminiscing about the time he'd spent eating, drinking, and singing carols with his family while growing up in New York.
"Feliz Navidad" is a song full of feelings, from melancholic solitude to pure Christmas cheer. Its heartwarming melodies will take you through a whole range of emotions. We recommend sharing this song with the people you love.
4. Frosty the Snowman
A radiant holiday favorite since the 1950s
This cheery Christmas classic was a sensation upon its release in the summer of 1950. Though its lyrics—written by Americans Walter "Jack" Rollins and Steve Nelson—make no mention of Christmas, the song has been a holiday staple ever since, famously covered by musical greats such as Nat King Cole, Ella Fitzgerald, and even the ultracool post-punk group Cocteau Twins in the decades after its release.
With a radiant, easygoing melody, "Frosty the Snowman" perfectly captures the joyfulness of the season.
5. Silent Night
Soothing sounds best suited to a cozy evening indoors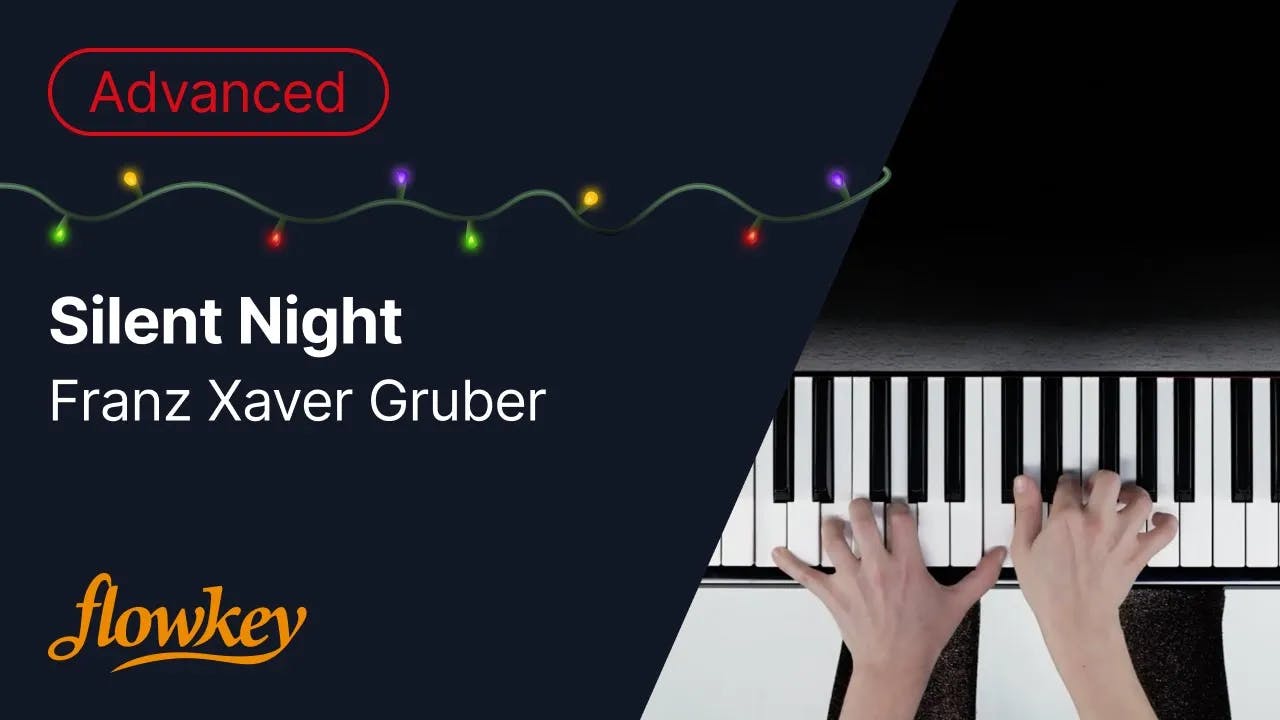 "Stille Nacht," as it's known in the German-speaking world, was first performed in a small-town church in what is now modern-day Austria. Its serene melody came from Franz Xaver Gruber, a nearby village's schoolmaster and organist, who composed the music to a poem written by a local priest two years earlier.
Two centuries later, "Silent Night" is a quintessential Christmas piano song—a calming selection best suited to a cozy evening indoors when everything outside is cold, dark, and quiet.
6. Rudolph the Red-Nosed Reindeer
Timeless charm for adults and children alike
This beloved piece by the Christmas song hit-machine Johnny Marks dates back to 1939, the same year its four-legged namesake first appeared. The song has since become a staple of holiday music, appreciated for its simplicity and melodic appeal. On piano, the melody emphasizes that appeal, spreading warmth and merriment to everyone within earshot.
The approachable arrangement makes it an obvious choice for beginner pianists, and can be a great first step into the world of Christmas music. For the young and young at heart, the cheerful melody and playful rhythm capture the very essence of the holiday season.
7. O Holy Night
A calming—and essential—addition to any holiday playlist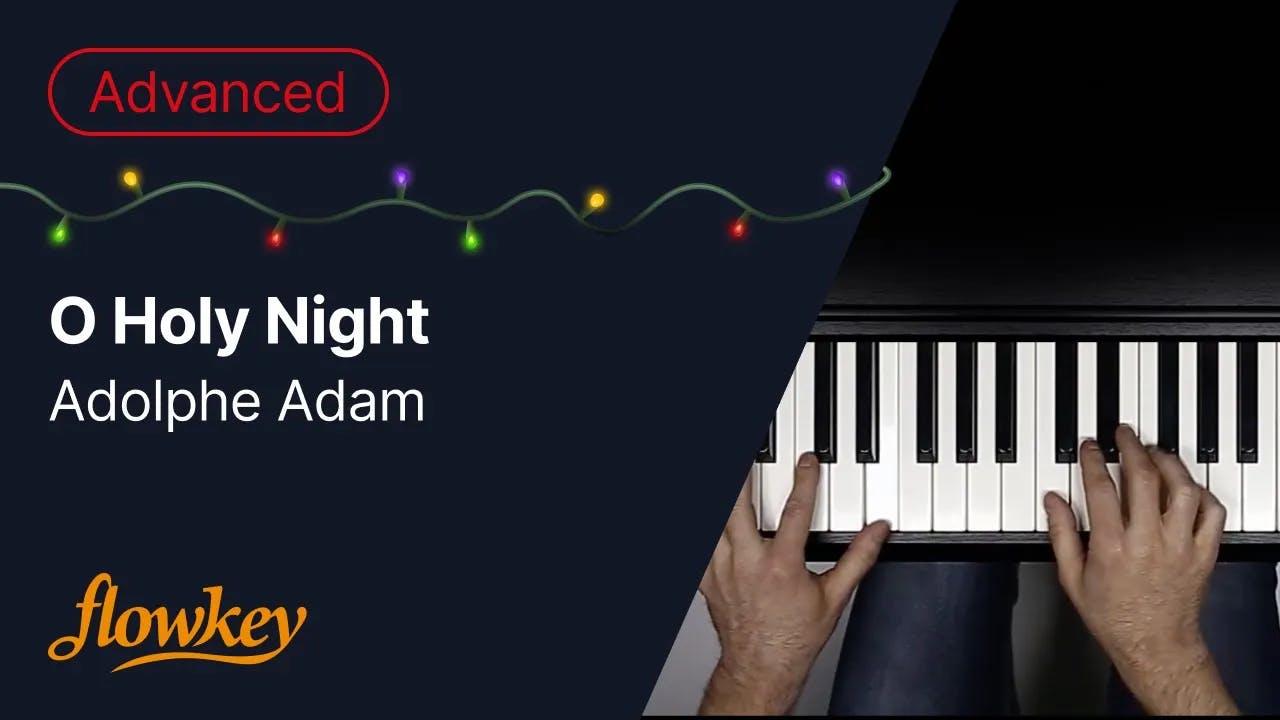 Many people see Christmas not only as a time for celebration, but also for reflection. We can use the holiday season as a chance to look back on the year and take stock of what we have: friends, family, whatever else we hold dear. A song like "O Holy Night" is an excellent soundtrack to this kind of thinking.
Even without its lyrics, the melody to this beloved Christmas carol is especially moving on piano, and a calming addition to any holiday playlist.
8. O Come, All Ye Faithful
This simple yet touching harmony is a must for all pianists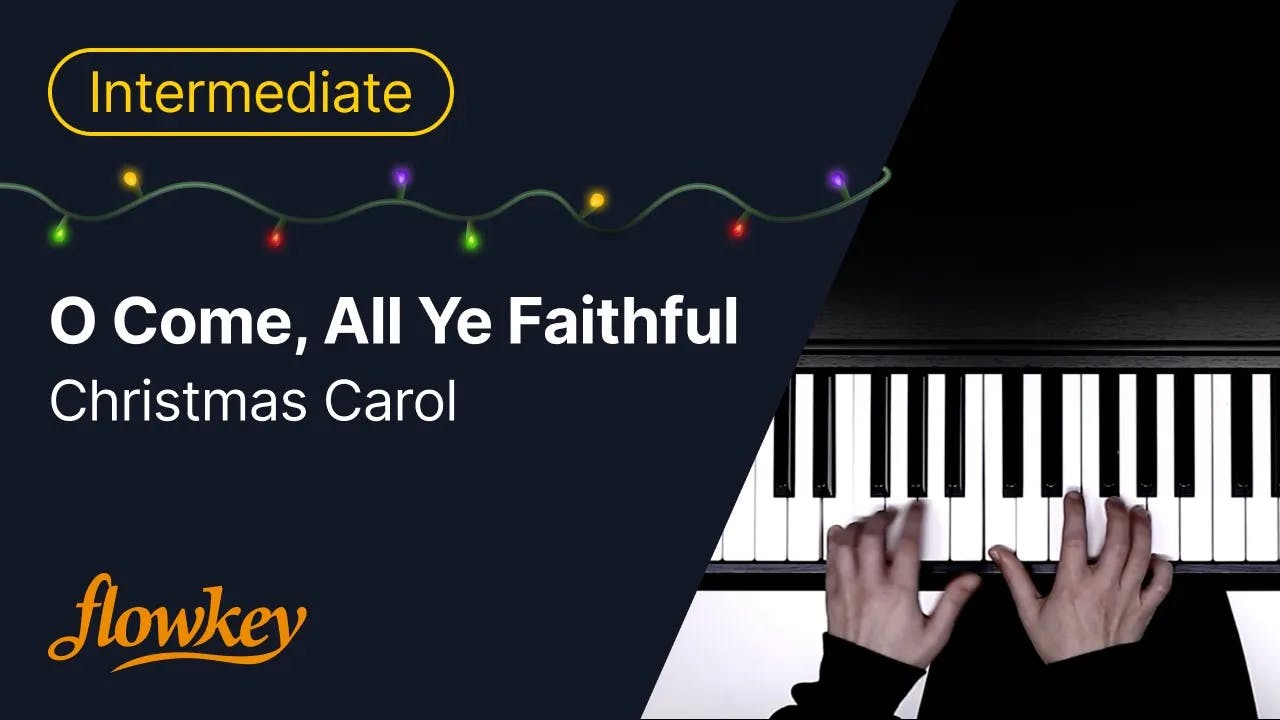 "O Come, All Ye Faithful" is one of the oldest songs on this list, and its exact origins remain unclear. Whether the tune was penned by King John IV of Portugal in the 1600s or the German composer Christoph Willibald Gluck one hundred years later is still debated, but does it really matter?
What's certain is that "O Come, All Ye Faithful"—with its simple yet touching harmony—is a beautiful Christmas song that's well worth learning.
9. O Christmas Tree
The sound of serenity and togetherness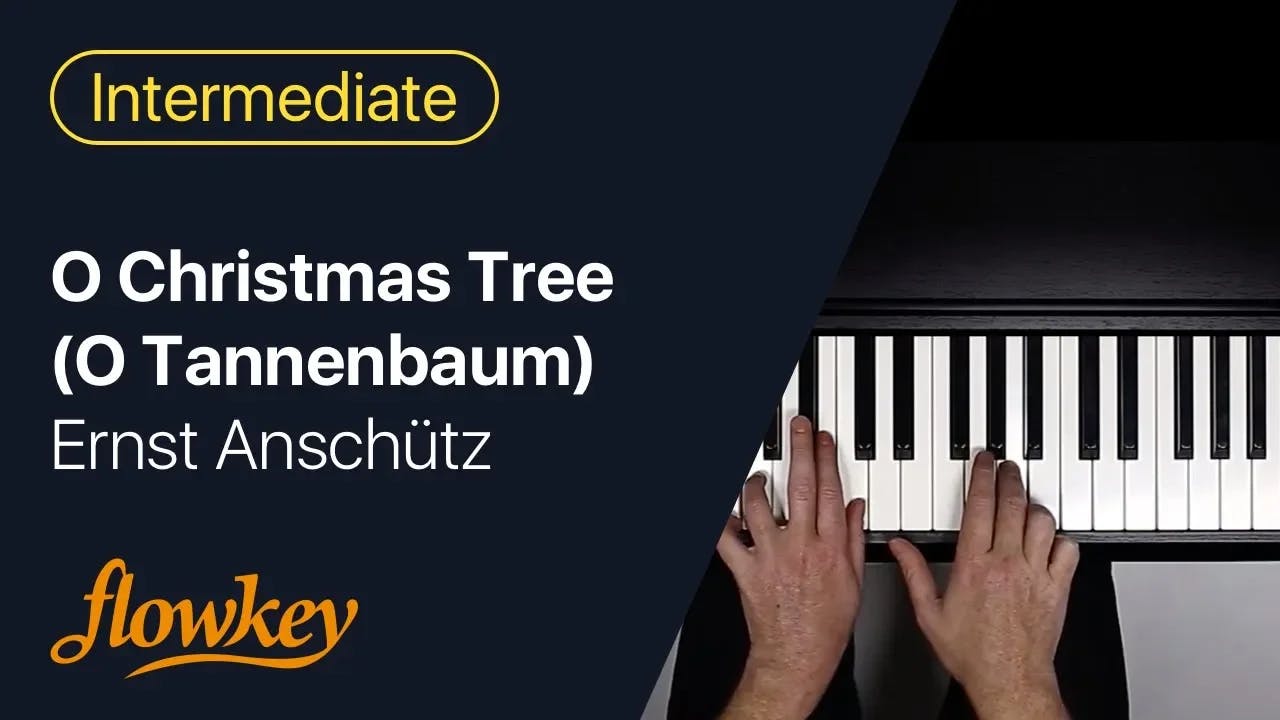 The piano version of this sixteenth-century piece—"O Tannenbaum" in the original German—weaves a lush tapestry of elegance and tradition. During the holiday season, the song's beauty shines through, perhaps evoking the image of a Christmas tree surrounded by the warmth of family and friends.
The simple yet enchanting arrangement is accessible even for beginners, bringing to life the joy and reverence associated with the festive season. Its soft, resonant notes create an atmosphere of serenity and togetherness—the feelings we crave during the holidays.
10. White Christmas
A jazzy classic with a melody to make you smile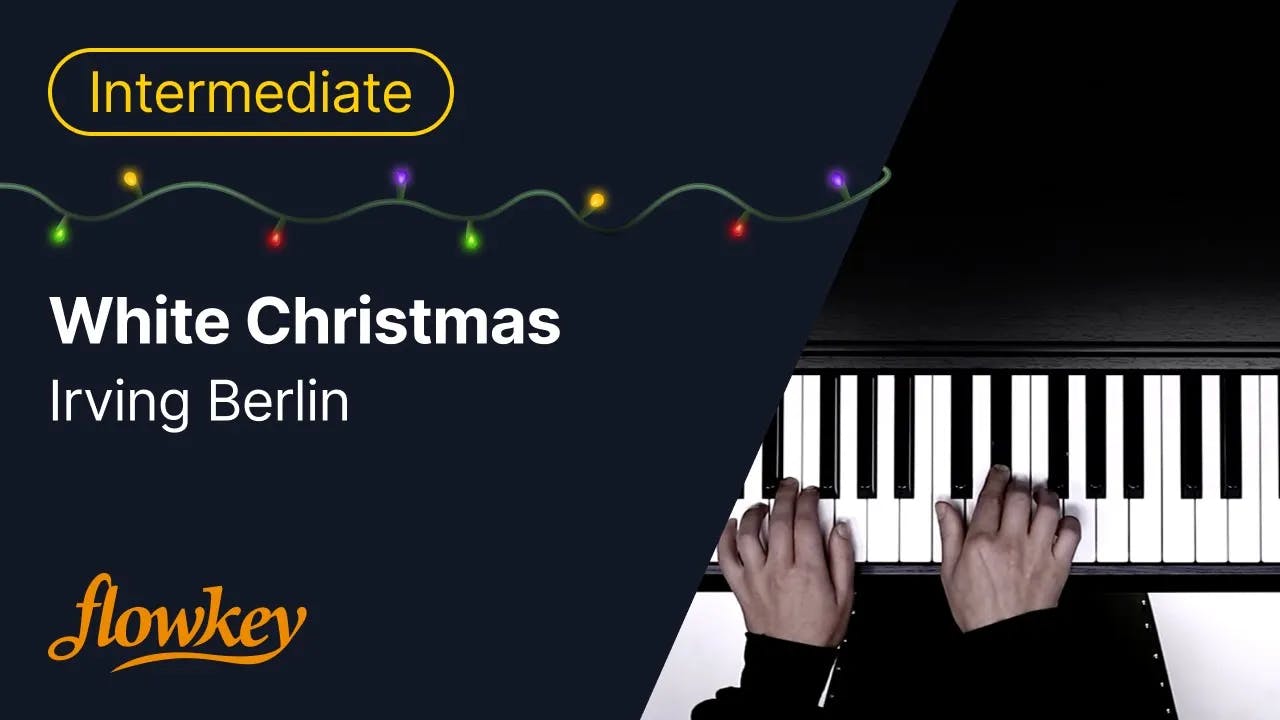 Of all the songs on this list, only one has a place in the Guinness World Records: Irving Berlin's "White Christmas." The 1942 version, performed by Bing Crosby, holds the record for the highest-selling single of all time, with an estimated whopping fifty million sales in the past sixty years.
Those fifty million people weren't wrong. The melody to this jazzy classic is a knockout.
Whether you want to lend atmosphere to a silent night, or infuse a family gathering with cheer, now is the time to start learning the piano songs that will help make your Christmas bright—or put the hum in your bah humbug, depending on your mood.
We hope our selection inspires you to learn a new song, or master an old one. We'd love to see what you choose, so reach out to us on Facebook, Instagram or TikTok to share your progress.